Our Teaching Method – A Student-Centered Approach
Learn & Play, Learn & Discover and Learn & Explore are unique resources that immerse children in language learning from an early age.
Our programme uses a distinct teaching method which consists in combining storybooks and role play games to engage children in the learning process. You can expect our programme to:
Increase and broaden a child's vocabulary, including mathematical terms;
Encourage the development of creativity and critical thinking skills;
Develop cultural awareness and understanding.
Our early language resources are suitable for use by early years educators, primary school teachers and MFL teachers, as well as being ideal for use in the home by parents.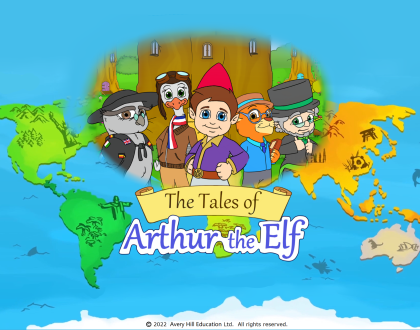 Bite-Size Sessions & Step by Step Learning
Our language programme is organised around three levels. Each level provides forty-eight learning sessions allowing children to develop their language and literacy skills in a progressive and holistic way.
A learning session is designed to last 15-20 minutes, ensuring children remain focused and engaged.
Programme for ESL Pupils & English Speakers
Programme for ESL pupils (4 to 9 years old)
Children learning English as a second language are immersed in the language and in the process develop strong listening and speaking skills. Cultural awareness is also an important component of our programme. We believe that children must appreciate the cultural assumptions of a language in order to effectively maximise the learning process.
Programme for English Speakers (4 to 6 years old)
Our programme also supports the Early Years curriculum. Our resources cover the Prime and Specific Areas of Learning and Development which interconnect with the Characteristics of Effective Learning: Playing and Exploring, Active Learning and Creating and Thinking Critically. Children become motivated learners well-equipped with foundations in literacy learning as well as wider skills.
Storybooks (with audio)
The stories are designed to encourage the development of functional vocabulary. A storybook is organised around the main text of the story and phrases in bold which are supported by illustrations.
Each story is short and has clear learning objectives. A child can listen to a story and repeat the key phrases once or twice before moving on to the activity book.
Activity Books
The activities are designed to consolidate the vocabulary covered in a story.
Children develop their language and literacy skills through creative and fun activities.
Animated Role Play Games (videos)
The role play games require the child to engage in the stories and build confidence with the language and concepts introduced. They are short but interactive, usually lasting around two to three minutes.
The learning template used in the animation facilitates and maximises learning. A role play game can be repeated once or twice before the child moves on to the activity book.
Activity Books
The activities encourage children to develop their language and communication skills.
Children acquire solid listening and speaking skills.