Our Teaching Method – A Student-Centered Approach





The programme Learn & Play is child-focused. It was designed to capture a child's imagination through storytelling and transform them in to engaged and willing learners. Fostering a child's intrinsic motivation for learning is pivotal in supporting emotional, social and cognitive development. It is not simply a basic language programme.
Children aged between 4 and 9 years old experience complete immersion in language learning through storybooks (with audio) and role play games (videos) supported by activity books. The voice actors are native speakers. The pronunciation of new words and phrases is clear and allows children to learn how to use native pronunciation.
Learn & Play Series 1 is available in English, French, Spanish, German and Italian.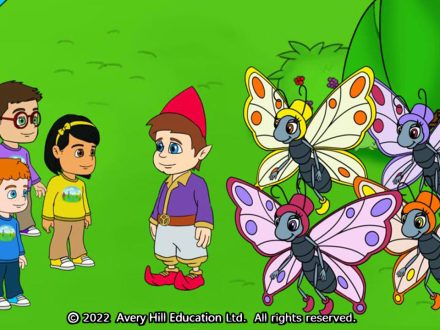 Bite-Size Sessions & Step by Step Learning
Our programme Learn & Play is organised into two series of three parts each.
Series 1 offers twelve storybooks (with audio), twelve role play games (videos), six activity books and three teacher/parent guides.
Each part of Series 1 is delivered monthly and includes eight lessons. Each lesson lasts around 15 to 20 minutes, ensuring children remain focused and engaged.
We recommend that the gap between lessons is no more than one week in order to maximise retention. Alongside this should be a minimum of one lesson per week covering a story or a role play game.
Flexible Programme
The programme Learn & Play is dual functional. It is suitable for foreign language tuition as well as mainstream early years and primary school teaching.
As an educational tool for young children, it supports language, literacy and problem solving skills as well as the development of cultural awareness. It's accessible to toddlers through pre-schoolers to primary school-aged children.
As a language-learning tool for 4 to 9 year olds, children experience complete immersion in language learning. They develop listening, speaking, reading and writing skills.
The programme can be used by teachers, parents and carers in a classroom or home setting.
Teaching Method for Learn & Play
Storybooks (with audio)
The stories are designed to encourage the development of functional vocabulary. A storybook is organised around the main text of the story and phrases in bold which are supported by illustrations.
Each story is short and has clear learning objectives. A child can listen to a story and repeat the key vocabulary/phrases once or twice before moving on to the activity book.
Activity Books
The activities are designed to consolidate the vocabulary covered in the story it is connected to.
Children develop solid language and literacy skills through creative and fun activities.
Animated Role Play Games (videos)
The role play games require the child to engage in the stories and build confidence with the language and concepts introduced. They are short but interactive, usually lasting around two to three minutes.
The learning template used in the animation facilitates and maximises learning. A role play game can be repeated once or twice before the child moves on to the activity book.
Activity Books
The activities encourage children to develop their language and communication skills.
Children develop self-confidence and acquire solid listening and speaking skills.